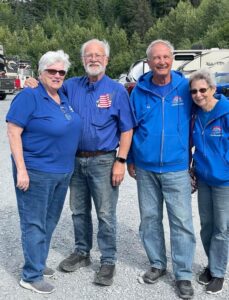 We hit the road early, leaving Stewart/Hyder behind as we set off for Smithers, British Columbia. Known for its stunning scenery and rich history, Smithers, British Columbia is a town located in the Bulkley Valley region of the province. The town was named after Alfred Smithers, a director of the Grand Trunk Pacific Railway, which was responsible for building the railway through the area in 1914. We stayed at the Riverside Municipal RV Park and spent the evening exploring the town with our friends Gail and Snorre. Later we indulged in a lovely dinner at a local favorite restaurant.
The next day, we continued on to Prince George, our final stop on the tour. We checked into the Mamma Yeh RV Park and enjoyed a wonderful group dinner in town, a fitting end to our 52-day journey together. It was bittersweet saying goodbye to our traveling family, as one by one, their RVs pulled out, each heading for different destinations on different schedules.
Despite the sadness of departing, our trip was nothing short of amazing. From the breathtaking sights we saw to the new and interesting people we met, this journey will forever hold a special place in our hearts. We will treasure the memories and friendships we made on this trip for a lifetime.
5,007 Miles

52 Days

878 gal Diesel

47.4 avg MPH