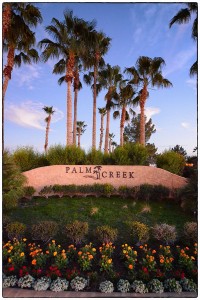 We are finally settled into our site in Palm Creek RV and Golf Resort and are surrounded by Albertans arriving here for the winter. We are going to play a lot of pickle ball and learn more about this game of golf. We both signed up for 4 lessons at Mission Royale Golf Course from the pro, Ryan. Most days started at 7:30 am with challenging games of pickle ball with Thor, from BC, and Chris, from Seattle. Then onto golf in the afternoon, either a lesson or the driving range. Trying to get better at golf so I can keep up with Alex and Karen Currie, great golfers, when they came to visit us for the day. After playing golf with Alex and Karen on the Par 3 golf course in Palm Creek I realized that I have a long way to go before my golf is up to their standard.  
One of the highlights that we were able to enjoy was watching the National Piclkeball Tournament held at Palm Creek and Robson Ranch for a week, from Nov 8-15. We got to see some amazing Pickleball players from kids in their 20's to adults in their 80's. Yes, this game is for all ages and so much fun. Our friends, Vanessa and Jeff,  from Tucson, came for dinner and then we drove to Phoenix to the Musical Instrument Museum, which opened in 2010 and it is the largest museum of its type in the world, with a collection of over 15,000 musical instruments. We went to listen to a friend of Vanessa's from Iran. Click on thumbnail to view images
On Nov 16th my sister, Susan and Denis, arrived at Palm Creek for 3 weeks. They rented one of the many cottages in the Park. We had a great time with them and took them on some sightseeing trips for the day. First we went to the Bioshere 2, in Oracle, Denis is an engineer and we thought that he would be most interested in this unique Earth systems science research facility. Another day we drove to downtown Phoenix to visit the Heard Museum.. This is one of the best places in AZ to experience the cultures and art of Southwestern Native Americans. The exhibition that was showing was the Frida Kahlo de Rivera, a Mexican painter known for her self-portraits. Her work has been celebrated internationally as emblematic of Mexican national and indigenous traditions, and by feminists for its uncompromising depiction of the female experience and form. The Heard Museum was founded by Dwight and Maie Heard in 1929, and  it was very  interesting how it successfully combines the stories of American Indian people from a personal perspective with the beauty of art. We had lunch in the Café then went to the Phoenix Botanical Gardens for the afternoon. A must see when visiting the southwest, because it shows off all the beautiful plants of the desert.  
After Susan and Denis went  back to BC, I went on a yoga retreat to Dallas, to visit my friend, Charry Morris, and her  new studio, Plum Yoga. I spent 3 fabulous days reconnecting with many yoga friends from Ohio and enjoying the teachings of Charry and Elena. Now our stay at Palm Creek RV and Golf Resort has come to an end, sad to leave this place but looking forward to going to San Diego and visiting with family.