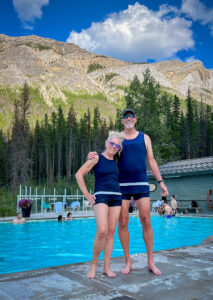 We got up early again under clear blue skies and headed back to Jasper to do the highly recommended Valley of Five Lakes hike. The hike is a moderate to difficult trail that takes you through a picturesque valley with five stunning glacial lakes. The hike starts at the Valley of Five Lakes parking lot and follows a well-maintained trail through dense forests and over rocky terrain. The trail winds its way through the valley, offering breathtaking views of the surrounding mountain ranges and the sparkling lakes.
The hike passes by all five lakes, each with its own unique characteristics. The first lake, Annette Lake, is a small, serene lake surrounded by lush vegetation. The second lake, Edith Lake, is larger and has a beautiful sandy beach perfect for a picnic or a swim on a hot day. The third lake, Patricia Lake, is the largest of the five and is known for its crystal clear water and excellent fishing. The fourth lake, Katherine Lake, is a smaller lake that is often used for canoeing and kayaking. The fifth and final lake, Mary Lake, is a shallow lake that is surrounded by wildflowers in the season. Click on thumbnail to view image
Valley of Five Lakes
Miette Hot Springs.
On the way back to Hinton we made a side trip to the Miette Hot Springs. The hot springs is a must-see destination for anyone visiting Jasper National Park. The hot springs have a rich history dating back to the early 1900s when the springs were discovered by a group of prospectors. The springs were then developed into a public bathhouse, and for decades, people would come from far and wide to soak in the warm mineral-rich waters.
The hot springs are located in a beautiful setting, surrounded by the rugged peaks of the Rocky Mountains. The two main pools are fed by natural hot springs, and the water is heated to a comfortable temperature of around 40 degrees Celsius. There are also several smaller pools, including a children's pool, as well as a sauna and a steam room.
After relaxing in the hot water pools, we headed back to Hinton, stopping to watch a family of Mountain Sheep along the way, before pulling into the Folding Mountain Brewery for dinner and drinks. The brewery is located in a beautiful setting, and the views of the surrounding mountains are spectacular. Inside, we found a cozy and welcoming atmosphere, with a great selection of beers on tap. We also enjoyed a delicious meal, the perfect way to end a day filled with outdoor activities and relaxation.