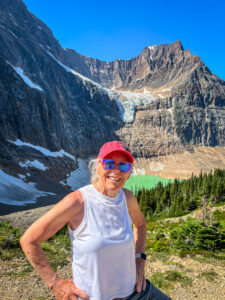 The next morning we were back in Jasper National Park to tackle the Edith Cavell Meadow hike. It was highly recommended and we had a perfect day to get a close up look at the iconic  Mt. Edith Cavell.
The mountain was named for Edith Cavell, who was a British nurse working in Belgium during World War I. She helped over 200 Allied soldiers escape from German-occupied Belgium and was subsequently arrested, court-martialed, and executed by the Germans in 1915.
The Edith Cavell Meadow hike is a moderate, 3.5-mile (5.6 km) round trip trail that leads to a beautiful subalpine meadow with a stunning view of the Angel Glacier and the surrounding peaks. The first part of the hike is a steady climb through open woods, but as you gain altitude, the trees start to thin out and the views become more spectacular.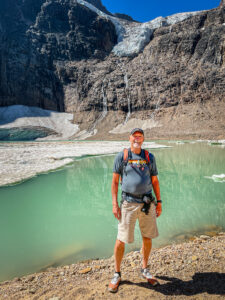 I took the side hike to the lake at the foot of the glacier while Patty continued on up to the actual meadows, The lake hike offered different but still impressive views of the glacier and the surrounding peaks. The trail is steep and rocky, and it descends down to the shore of a glistening glacial lake. The lake is fed by meltwater from the Angel Glacier and is a beautiful, green color. The trail continues along the shore of the lake, offering even more stunning views of the glacier across the lake which is dotted with small icebergs.
The longer hike up to the meadow takes you a large open area covered in wildflowers which were in full bloom. It's a popular spot for picnics, and was the perfect place to take in the breathtaking views of the glacier, Mount Edith Cavell, and the surrounding mountains. The trail continues beyond the meadow to the base of the mountain but it is mainly used by the climbers attempting to reach its 11,033 ft summit. Click on thumbnail to view image
Jasper Park Lodge
After completing our hike, we headed for the famous Jasper Park Lodge for a nice lunch and relaxing walk around the grounds. Patty reminisce about her summer working at the lodge during her university years. The lodge was built in 1922 by the Canadian National Railway (CNR) as a destination for tourists visiting the Canadian Rockies. The hotel was designed in the rustic style of a grand mountain lodge, with large stone fireplaces, exposed timber beams, and natural stone walls.
The original hotel was an immediate success and quickly became one of the most popular tourist destinations in the Canadian Rockies. Many famous guests have stayed at the hotel over the years, including King George VI and Queen Elizabeth, as well as several prime ministers, governors general, and celebrities. Overall, Jasper Park Lodge is a historic and luxurious hotel that offers visitors a chance to experience the natural beauty of Jasper National Park in style. It's a great place to relax and unwind after a day of hiking  or just exploring the natural beauty of the park. Click on thumbnail to view image