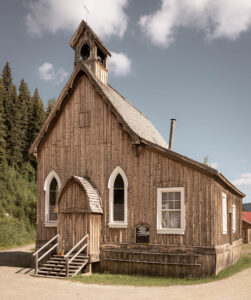 Our Alaska adventure was a trip of a lifetime, but it was time to head south to Quesnel, BC in search of more adventures. We checked in at the Roberts Roost RV Park in Quesnel then we went into town for dinner and to have a look around.
Quesnel is a small town in the central interior of British Columbia. It was founded in 1866 during the Cariboo Gold Rush. The city was named after the Quesnel River, which was named after a French-Canadian trapper, Jules Maurice Quesnel. Today, Quesnel is a popular destination for outdoor enthusiasts, with many opportunities for fishing, hunting, and camping in the surrounding area. It is also an overnight stop for the world famous Rocky Mountaineer trains northern route.
The next morning, after a great breakfast at the Granville's Coffee Shop we headed off to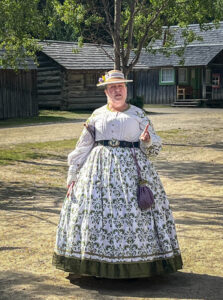 explore Barkerville. Barkerville is a historic town located about 55 miles east of Quesnel. It was founded in 1861 during the Cariboo Gold Rush and quickly became the largest town in the region. Barkerville was named after Billy Barker, a prospector who struck it rich in the area. Today, Barkerville is a popular tourist destination and a National Historic Site of Canada. Visitors can take a step back in time and experience what life was like during the gold rush era.
This amazing place brings the past to life with narrators in period costumes and lots of craft exhibits showcasing how things were done in the mid 1800's. We were able to experience what life was like during the gold rush era from making horseshoes to attending school; what an amazing experience. The grand finale had to be the vaudeville show at the town theater complete with honky tonk music and dancing girls. Barkerville is a definite must-see for anyone interested in history or those looking for a unique experience.  Click on thumbnail to view image
On our return home, we made a side trip to Bowron Lake Provincial Park , the start of the famous canoe circuit that I did almost 50 years ago. The circuit is made up of a series of interconnected lakes and rivers, and is considered to be one of the premier canoeing and kayaking trips in North America. The loop is approximately 115 miles (185 km) long and takes most people between 6 to 10 days to complete. The scenery is just as spectacular as i remembered it. Click on thumbnail to view image
Then went into in Wells for dinner at the Old Wells Hotel. Wells is a historic mining town that has been around since the late 1800s. The Old Wells Hotel is a beautiful and well-preserved building that serves delicious food. It's a great place to stop and take a break while traveling through the area.