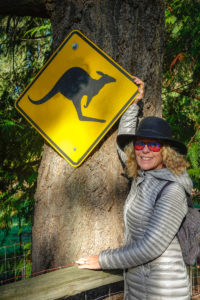 In October we were staying in Ferndale, WA at the Cedars RV Resort, and we decided to take a short vacation from our RV and visit Orcas Island, considered to be the most beautiful of the San Juan Islands. We drove to Anacortes, WA, and caught the early ferry to Orcas Island. We watched the sunrise on beautiful Mt Baker from the ferry, spectacular morning glow. We arrived at Orcas Village, still early to be able to enjoy breakfast at one of the many restaurants We ate at the Orcas Hotel, that first opened its doors in 1904 and to this day retains all the charm of its  Victorian heritage. Then we drove one mile north to our B&B just up the hill from the village, we booked into the Kangaroo House Bed & Breakfast, the longest running B&B in the San Juan Islands. Each guest room is named after the wild birds that flock to the backyard wildlife sanctuary, we were in the Goldfinch Room, a beautiful king bed with a sleigh headboard greeted us as we entered the room.
Kangaroo House was named after its namesake, Josie, the kangaroo that lived here for many years. It was originally built as a vacation hotel in 1907, and has a succession of fascinating owners over the years. In the early 1930s Captain Harold (Cap) Ferris, purchased the home, and brought a young wild kangaroo home from a voyage to Adelaide. The islanders loved Josie, and the old home has been known as the "Kangaroo House" ever since. Another wonderful feature of this B&B are the breakfasts made from scratch. They even catered to vegans, using the freshest organic ingredients – seasonal fruits, vegetables, smoked salmon and meats. Our first exploration of Orcas Island was to Moran State Park, where we took the winding road up to Mount Constitution. The vistas across the water to the mainland and Mt Baker in the distance were spectacular on such a clear day. We did a rather steep hike down to Twin Lakes and back. On our way back we stopped at Obstruction Pass State Park, which has the largest public beach on Orcas Island. This would be a great place to camp in the summer. We wanted to eat at Doe Bay Cafe but we were too early so we relaxed outside and took in the peace a tranquility of this bay. We had dinner at the Inn at Ship Bay which was outstanding. Click on thumbnail to view images
Orcas Island
On our last day we drove to the West Sound past Deer Harbor to Turtleback Mountain Preserve. We did a fantastic hike up the mountain and were able to stay long enough to see the sunset from the Preserve overlooking the San Juan Islands. We didn't want to leave as the setting sun changed the sky into brilliant shades of yellows and reds. What a memorable trip to Orcas Island, would love to return someday!