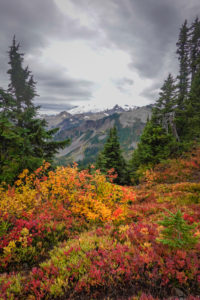 While we were staying in Aldergrove, we took a few trips to Mt Baker area in Washington as it is close and has fabulous hiking trails. One of our most favorite hikes is the Yellow Aster Butte Trail within Mt Baker Wilderness. We went in October and the alpine flowers covered the foreground in reds, yellows, oranges and purples which you can see from the photos is the best time for the brilliant palette of fall colors. We also enjoyed spectacular views of Mt Baker, Mt Shuksan, and the Border Peaks, Mt Larrabee and the western portion of the High Divide. We started the hike at the Tomyhoi Lake Trailhead and switchbacked up through an avalanche path, gaining elevation until the trail breaks out to a flat bench in a meadow. After a steep half mile trail we finally reached the windy summit of Yellow Aster Butte with stunning panoramic views of the surrounding mountains. It was a perfect day with a few clouds hanging above the peaks in the distance. Another time we would love to backpack here as there are phenomenal tent sites located in the meadow with tarns for camping next to and time for a day hike up Tomyhoi Peak. It's a 7.5 mile R/T hike, with a 2,550 ft elevation gain. Click on thumbnail to view images
Yellow Aster Butte Trail
Ptarmigan Ridge Trail
From Bellingham we drove 60 miles to the parking lot at Artist Point in Mt Baker Wilderness to hike the 8.5 mile out-and-back Ptarmigan Ridge Trail. We started our hike along an open ridge trail for 1.2 miles then came to a junction where we dropped down via several switchbacks to the snowfields still exposed on the trail, no problem hiking across them. A little further along Mt Baker appears larger than life at this point on the trail. Amazing views on such a clear day. We took a side trip to a beautiful blue-green tarn, it looked so inviting from the trail that we hiked down to it but not close enough for a swim. On our way back to the parking lot the views of Mt Shuksan stood out in front of us in all its glory. It was a beautiful sunny day and the views were spectacular all along the trail. We returned to our jeep and as we were driving past Reflection Pond we were treated to amazing sunset views of Mt Shuksan reflecting in the calm water of the pond.
Horseshoe Bend Trail
Ralph and Dawn White joined us for another excursion to Mt Baker Wilderness. Our plan was to hike Yellow Aster Butte Trail but the smoke was so bad that the Ranger suggested we hike Horseshoe Bend Trail. It's a 2.4 mile roundtrip hike along the North Fork of the Nooksack River, which gets its start from the glaciers of Mount Shuksan. After we descended a set of wood steps the trail parallels the raging river squeezing its way through a narrow gorge, then climbs and enters the deeper and darker woods. Great for keeping the smoke filled air out of our lungs as we hiked. It is a wonderful gentle riverside trail that meanders through a forest of giant moss-hung firs, hemlocks and cedars, definitely a must hike. On our way back we stopped at the Nooksack Falls, where the water flows through a narrow valley and drops freely 88 feet into a deep rocky river canyon. One last stop was at the Wake N Bake Bakery in Glacier for coffee and sweets.
Artist Point
We took Pat and Harry Koehler to see Mt Baker on a cold, rainy day, but it was still worth the trip. We drove right to Artist Point where the best views can be seen of Mt Baker and Mt Shuksan without going on a long hike. Seeing as it was cold and windy we didn't stay too long but we were able to get some nice views of the mountains.