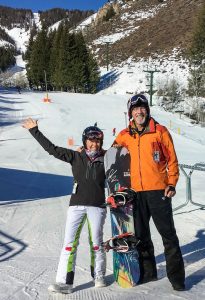 Once again we are hitting the slopes at Sun Valley with roomies, Karen Moyer and Bruce Kahn, along with a ski group from Ohio. We are staying at the Christophe Condominiums in Ketchum, within walking distance to the River Run lifts. After we arrived and settled in, we had a meet-and-greet party at Al Feronti's condo, he's the trip leader, and got the schedule for the week. Saturday was our first day on the slopes and the weather was perfect, sun shining brightly, and lots of groomed runs to warm up our legs. We ate lunch with the group at the Lookout Restaurant on the top of Bald Mountain. Great views but the food was not the best. At the end of the day we gathered once again at the bottom of River Run drinking beer and  sharing stories of the beautiful day on the mountain.
We had to return to one our favorite restaurants in Ketchum called Grumpy's, established in 1978, a place to come for Burgers and Beer. They even have veggie burgers, but the place is not only about the food, the ambience is laid back and casual, a place to come and just hangout. We decided not to snow board on Tuesday and had fun walking through town and shopping. While Karen and Bruce drove to Pocatello to visit the University of Idaho, where Bruce was an alumni. Click on thumbnail to view images
Another place we had to visit again was the Sun Valley Lodge, originally constructed in 1936 as America's first destination ski resort, which reopened this season after a $10 million renovation, including  an adjoining 20,000 sq ft service spa and salon. We wandered through the amazing spa and then enjoyed some libations in the Duchin Lounge. We celebrated our final day on the slopes having lunch at the Roundhouse Restaurant, perched atop the Roundhouse gondola on Baldy, which has been serving up memorable meals, stunning views, and good cheer since 1939. The food was delicious and the views of the mountain were spectacular. We love Sun Valley, for its sunny days, great restaurants and wonderful groomed runs. The trip was over too fast, and with no injuries, the week was truly a success.