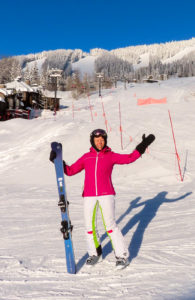 On January 5th, 2019, we flew to Kalispell, Montana, where we were greeted by Marguerite and Don Shepherd, then taken to their condo in the Meadow Lake Resort in Montana's majestic Flathead Valley. We were here for a week of skiing at Whitefish Mountain Resort (formerly Big Mountain), with 3,000 acres of uncrowded terrain. It was going to be an epic week for me as I have seen the light and I am returning to skiing after 20 years of snowboarding. Don was a great help as he was a ski instructor at Mt Baker and knows all the new ski equipment and what would be the best for me. Our first day on the slopes was foggy so we stayed lower down on the mountain, following our fearless leader Don. The best part of the day was lunch at the Hellroaring Saloon & Eatery located in the historic Chalet on Whitefish Mountain Resort. The drink of choice was the Keoki Coffee, (kaluha, brandy, & coffee) that will keep you feeling warm and cozy for the rest of the day. After a tiring first day of skiing and snowboarding we enjoyed some apres ski drinks and snacks at The Montana Tap House.
Day two on the mountain was a bluebird day without the crowds or lift lines and we ventured to the top of Whitefish Mountain. What a beautiful mountain in the sunshine especially with the plentiful snow ghosts which Whitefish is famous for. Most observers mistakenly think that these trees are encrusted with snow, or a coating of hoar frost, the truth is that the covering is heavy accretions of ice, called rime. The architects of snow ghosts are the winds, clouds, and fog that frequently buffet the the ridge tops and summit of the mountain. And what we see are haunting, beautiful snow formations that are a signature of Whitefish. Skiing and snowboarding through them is an experience like no other.
We took a day off of skiing and went to a movie, then did some shopping in the quaint town of Whitefish, where small town charm meets world-class hospitality. Whitefish was incorporated in 1905, a year after the arrival of the Great Northern Railway. We enjoyed cocktails at the Firebrand Hotel a premium location in downtown Whitefish. Then we enjoyed dinner at Wasabi Sushi Bar, voted #1 Sushi in The Flathead and Whitefish area, with creative sushi and Asian-inspired grilled dishes in an orange & purple dining room. After our final day on the slopes I ended up buying the skis that I had rented, Blizzard Black Pearl 88, they were amazing, what a difference from the skis 20 years ago. For our last night in Whitefish we went to the Lodge at Whitefish Lake for dinner, nestled between majestic mountains and pristine waters of Whitefish Lake. We arrived early in order to get good seats for the live entertainment to follow. The entertainer tonight was John Dunnigan, whom Marguerite and Don have come here to listen to many times. He is a clone of Jimmy Buffett, James Taylor and John Prine joined together in some bizarre musical experiment. His original, often hilarious songs make you think, laugh, sing along and raise your glass in a toast to life. What a fabulous evening!!!
Thank you Marguerite and Don for a fun week of skiing, eating, drinking and laughing together. Click on thumbnail to view images