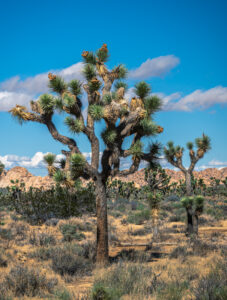 During our stay at Borrego Springs we made a day trip to explore Joshua Tree NP near Palm Springs.. The park, which spans over 792,510 acres, is a breathtaking natural wonderland that boasts a rich history and diverse array of flora and fauna. The park was established as a national monument in 1936, and later designated as a national park in 1994. The park gets its name from the Joshua tree, a species of yucca that is native to the Mojave Desert. The tree was named by Mormon pioneers who were reminded of the biblical figure Joshua, who reportedly lifted his arms in prayer to guide the Israelites to the Promised Land.
Upon arriving at the Cottonwood Visitor Center, we were greeted by a friendly ranger who provided us with a list of must-see attractions within the park. We quickly made my way to the Cholla Cactus Garden, where we were absolutely amazed by the sheer beauty of the desert landscape. As we walked through the fields of Cholla, the sunlight shone through the cacti, creating a stunning backdrop for some unforgettable photo opportunities.
Next, we made my way to Skull Rock, where I embarked on a short hike that led me through a maze of towering boulders and unique rock formations. The scenery was unlike anything I had ever seen before, and I was blown away by the sheer size and scale of the landscape around me.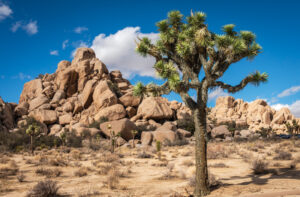 Continuing on our journey, we arrived at Hidden Valley, a truly otherworldly destination that offered stunning panoramic views of the surrounding area. As I completed the loop hike,weI couldn't help but feel a sense of awe and wonder at the incredible natural beauty that surrounded us. It was also a treat to see a group of rock climbers in action, defying gravity and pushing themselves to new heights.
Finally, we made my way to Keys View, where we were treated to some of the most spectacular panoramic views of the Coachella Valley. From the top of lookout you can see to the south the shining surface of the Salton Sea, which is 230 feet below sea level around to the Santa Rosa Mountains are behind the Indio Hills along with 10,800-foot San Jacinto Peak behind Palm Springs. Further north you can see on a clear day the usually snow-covered peak of 11,500-foot San Gorgonio Mountain. Click on thumbnail to view image
In conclusion, our visit to Joshua Tree National Park was an unforgettable. Whether you're a hiker, a photographer, or simply someone looking to experience the beauty of the great outdoors, Joshua Tree is a destination that should not be missed.