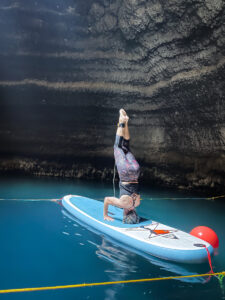 As we departed from Victor Idaho, we drove towards our next destination, the charming Heber City, and were blown away by the stunning fall colors on full display. Arriving at the Mountain Valley RV Resort, we were greeted with a breathtaking view of the towering Wasatch Mountains in the distance.
The next morning, we woke up early to embark on a scenic drive through the Wasatch Mountain State Park. The vibrant hues of orange, red, and yellow leaves framed the winding roads, creating a picturesque autumn landscape that took our breath away. We stopped at various viewpoints to take in the stunning panoramas of the mountain ranges stretching as far as the eye could see.

The following day, we made our way to Park City to explore the lively downtown area. With a rich history dating back to the 1800s, Park City was once a thriving silver mining town and now boasts an abundance of art galleries, shops, and restaurants. We decided to head to the iconic No Name Saloon, where we enjoyed delicious comfort food, cold beers, and great company. The Saloon's rustic charm, featuring wood paneling and historic artifacts, made for a cozy atmosphere, and we could feel the town's vibrant energy around us.
On our last day in Heber City, we had planned for a unique and unforgettable experience for Patty: paddleboard yoga at the Homestead Crater in Midway. The Homestead Crater is a natural geothermal hot spring hidden within a 55-foot tall limestone rock formation. We watched Patty as she gracefully balanced on her board while practicing yoga poses, surrounded by the tranquil waters and the steam rising from the warm natural pool. It was an experience that she would never forget. Click on thumbnail to view image