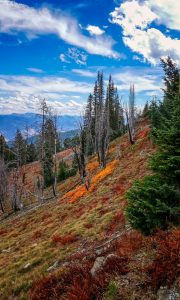 Today we arrived at the McCall RV Resort in McCall, Idaho. McCall is off the beaten track but a place that we wanted to visit and stay at this beautiful RV park, we were parked over looking a river and plenty of trees. McCall is a resort town situated on the southern shore of Payette Lake, near Payette National Forest. McCall was established by Tom McCall in 1889-91 as a logging town, the sawmill company operated until 1977. After settling into the Park, we went out to explore the town and drove around Ponderosa State Park, a 1,000 acre peninsula, home to some of the largest old-growth trees in the western US. Click on thumbnail to view images
Burgdorf
Burgdorf Hot Springs is a rustic resort nestled in the mountains of central Idaho, about 30 miles, a 40 minute drive north of McCall. On a cold and rainy day we headed to the Burgdorf Hot Springs, and when we arrived, it felt like we stepped back in years. The cost is $8 per day, and after changing into our swim suits we jumped into the large hot pool framed with logs with a soft gravel bottom, the temperature at 100 degrees. Then we walked in the water over to the wooden covered small pool that was 105 degrees and slow to get into, but oh so good once you are in up to your neck. There were only a few other people here and with no cell service, no city lights, beautiful scenery, a natural clean hot springs, and the rustic feel of the area this place is like no other hot springs we have ever visited. Floating around in the hot springs was the best way to spend a wet, cold day in Idaho.
Heavens Gate
Today we drove the rough road to Heaven's Gate Lookout, one of the best viewpoints in Hells Canyon. At 8,400 feet elevation, Heaven's Gate offers views of Hells Canyon, the Seven Devil Mountains and other peaks in the area. The first lookout, in 1924, was a log cabin with a cupola, destroyed in 1958 by a forest fire. The present lookout was built in 1978. The 4-wheel drive road was very narrow and mostly gravel but well worth the 18-mile drive once you get there, the views are phenomenal. We parked at the lot near the summit and climbed the half-mile trail to the fire watch lookout tower and enjoyed the panoramic views.
Payette NF
The historic ghost town of Warren is located approximately 45 miles northeast of McCall, along Payette Lake in the Payette National Forest. Warren is an old-west gold mining ghost town, however there are still people living in Warren, a population of 12 to 16 hardy souls year-round. We drove around the town taking in the old buildings and the old artifacts lying throughout the area. No one else was insight so we left and continued on our drive along the back roads back to McCall.