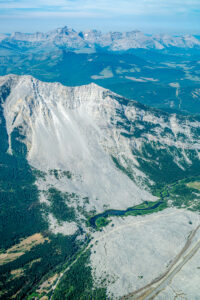 We spent the night in Calgary with our friends Pat and Harry who entertained us royally. Next morning, we headed south to the High River Alberta airport to embark on a flight with Harry to fly over the Frank Slide in southern Alberta. As we took off from the airport, we were greeted with breathtaking views of the grain fields and the front range of the Canadian Rockies in the distance. The flight was simply stunning and a great opportunity for us to admire the beauty of Alberta from above.
As we approached the Frank Slide, the size of this natural disaster was simply staggering. The Frank Slide is a rockslide that occurred on April 29, 1903, near the town of Frank in southern Alberta, Canada. It was one of the largest and deadliest rockslides in Canadian history, resulting in the loss of over 70 lives and devastating the town of Frank.
From the air, it was clear to see the impact of the Frank Slide on the surrounding area. The huge piles of rocks and debris covered over 2.7 square kilometers of land, creating a new landscape that was both beautiful and haunting at the same time. We were amazed at the size of the slide and the incredible forces of nature that must have caused it.
On our return flight to High River, we flew over the town of Vulcan, Alberta, which is famously known as the home of the Star Trek Museum. Vulcan is a small town located in southern Alberta, and it has become a popular destination for fans of the Star Trek franchise. Continue reading →